No cum torture for slaves in a chastity device.
Each of my slaves has the powerful desire not only to work for me and to give me money, but each one wants to FEEL that they belong to a Superior Goddess who can torture them in different ways.

Some slaves want to take their servitude further though,...and now you want to feel something new... You want to give control of your manhood to your Goddess and to be locked for as long as she orders you to be locked...Don't you want your Goddess to control your orgasm in this way? Do you want to be part of my chastity slave group and serve your Goddess in this way?

Once your cock is locked away in a chastity device, your training will begin to deepen your servitude and weakness for your Goddess. You will begin to appreciate and serve your Goddess even more than before since you are no longer in control. The chastity device reminds you at all times that you are under my control and direction, and makes you want to serve and tribute your Goddess even more. You have to earn your release! Earn the priviledge to cum. You will be teased, you will be denied, and you will tribute me to earn release.

You will soon feel weaker towards me and your everyday life will be reshaped around my pleasure and control.


A pic of my slave Patrick wearing a chastity device.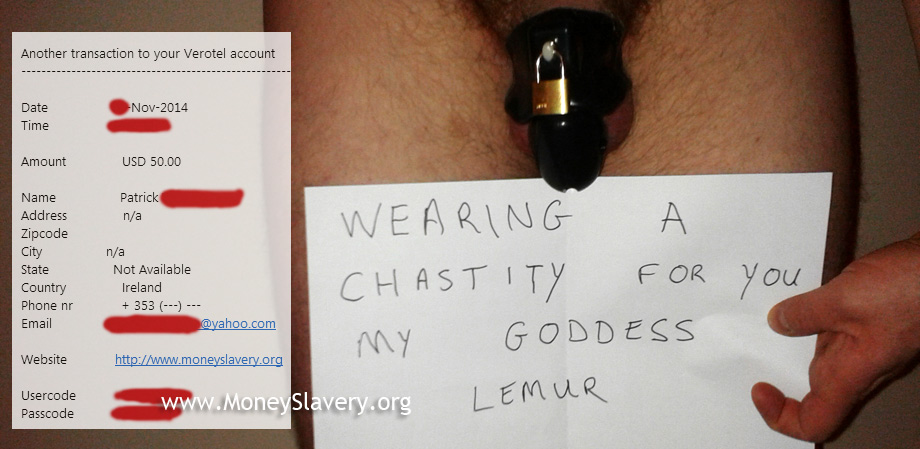 Goddess Lemur has my cock and balls locked in a chastity device. They are her property and she decides if and when the device is unlocked. Every day she tortures me with sexy pictures that make me hard. Unfortunately for me, an erection causes the chastity device to restrict me and it is painful. I beg for release, but my Goddess doesn't allow it. She knows this is torturing me. She knows her beauty and intelligence are teasing me.

I want so badly to remove the chastity device and to masturbate, but my Goddess forbids it. I want to be a good slave so I must obey her every demand. It is so difficult though when my Goddess is so beautiful and sexy. Her ass and pussy are so perfect and heavenly, but they are a double edged sword for me, since they now cause me pleasure and pain in the chastity device. When my Goddess instructs me to cum, it is a huge relief to be allowed.
I've read the above and I WANT TO BE LOCKED NOW, my Goddess!