The videos of your Goddess who owns your hard earned cash.
As usual, read the description!
Slaves who have paid the introductory tribute have access to my videos, but once I send you the links to download the videos. I want to treat you portionally. You will not be able to download in bulk mode. I need to know what makes you shiverring and will be torturing you with them! If you continue to pay me tributes, you'll enjoy uninterrupted access. I am a considerate Goddess, and like to look after my slaves! If you have not yet paid me a tribute, what the hell are you waiting for?

Once inside my realm, you will be able to worship me through my videos. Get down on your knees and pay your respect to my glorious ass. Imagine the thrill of being under it, in your place where I like you to be. Having trouble breathing? Ha ha, I really don't care! You will stay there as long as I like, so get used to it. You will see me taunting you with my beautiful pink shaven pussy. Only good slaves are allowed to see my heavenly place. Deserve the right to peek at it, and have a heart attack. I know you will dream about being allowed to lick and suck my pussy with your tongue and lips, and make me cum time after time, but only a muscular slave with a great body is allowed to please my pink pussy, and probe my tight little asshole, with his burning red tongue. You're so horny! Even your tongue wants to cum. LOL!! You have always longed to worship the pussy and asshole of a beautiful, demanding girl like me!





A word of warning though. If you are one of my chastity slaves, you will not be allowed to cum yourself, unless I have given you permission. I may order you to play with yourself, and push yourself right to the edge, but NO CUMMING for my chastity slaves! You have lost that right, and disobedience will be punished! The army of my chaste slaves here only have permission to cum at most one day a week (if they've been good), for some less often, and only after I order them to cum. Of course you'll have to pay me the cum tribute, a tithe to your Goddess.

Aren't you here for this? To be controlled by a gorgeous lady who can make you cum just by looking in your eyes. Who owns you, your cash, your everything. You will see me smiling sweetly at you, fluttering my eyelids, flashing my innocent eyes, enjoying the power I have over you, my slave. I know how weak and helpless I make you feel, and love to push you deeper under my spell. You will pay me tribute, and thank me, your Goddess, for allowing you to serve me and do my bidding.

The sample video and photos I show on this page are for your enjoyment. However, I choose not to show explicit material in this public area, and you will see considerably more explicit videos and photos in my private realm.





So pay your respects to your Goddess now, slave! Prospective slaves, sign up to pay your first tribute HERE

Existing slaves, enter HERE.




EAT MY SQUEEZED SWEETS
WORSHIP MY SOCKS AND SMELL THEM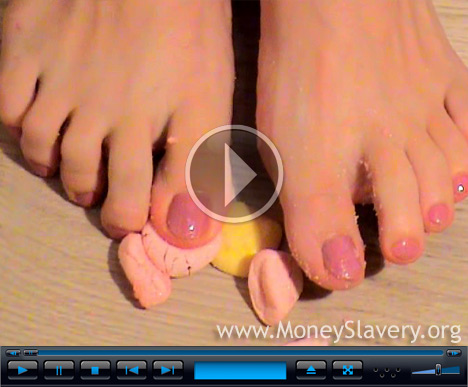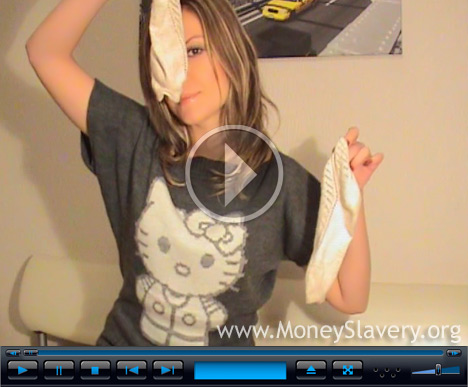 I know that you want to eat the sweets and lick my feet spotless clean! I know you want to as it was recorded as a custom order for a slave who ate these sweets. Yes, I shipped them. Wanna see?
It's a honour for you to get my worn socks and worship them. Imagine yourself kneeling to them and kissing the floor they're laying on. Watch a video first to start your addiction.

Custom Videos

Slaves are also permitted to request custom videos, for payment of an additional tribute. I like to help my slaves explore their fetishes and find that it usually brings us closer, and makes the slave even weaker for me!

So if you would like to discuss the possibility of commissioning a custom video from me, contact me and tell me your fantasies, using the following form.