Worship my Pantyhosed Feet.
I am working on my website and I am adding more content to make it even better than before. I am a gorgeous girl and the site should be the same, superior and modern. There are many STALE sites which you are tired of visiting. You need to spend your hard earned cash on something real - ME! I just wish I could add new photos and descriptions as fast as I want. I thought it would be easier to do, but I have spent some weeks updating it. It's not so easy, so wait a bit, or better start your slavery journey with me by sending the tributes... wink ;)

Let's face it, you have an insatiable pantyhose fetish. The sight of a woman with pantyhosed feet makes you go weak at the knees. You long to worship a Goddess who not only likes wearing pantyhose, but also loves knowing how weak it makes you feel. I am your next door girl for pantyhose foot worship! Pay the introductory tribute now, slave, treat Me with the respect I deserve, and you will be lucky to get the same respect to fulfil your itching desire to worship a hot Goddess.

Wait to see more or make your contribution now to start receiving new photos of me in pantyhose. I know you want to see more photos and interact with me as your pantyhose Goddess who can make you feel great with personalized photos seeing my feet in nylons!

---
Gaze at me wearing a pair of dark blue, opaque pantyhose.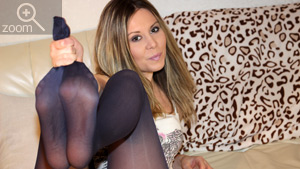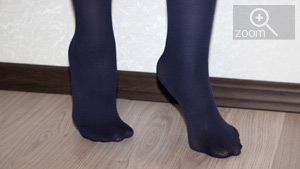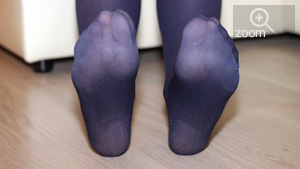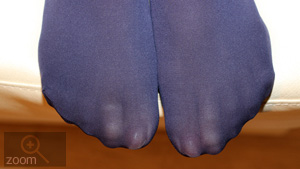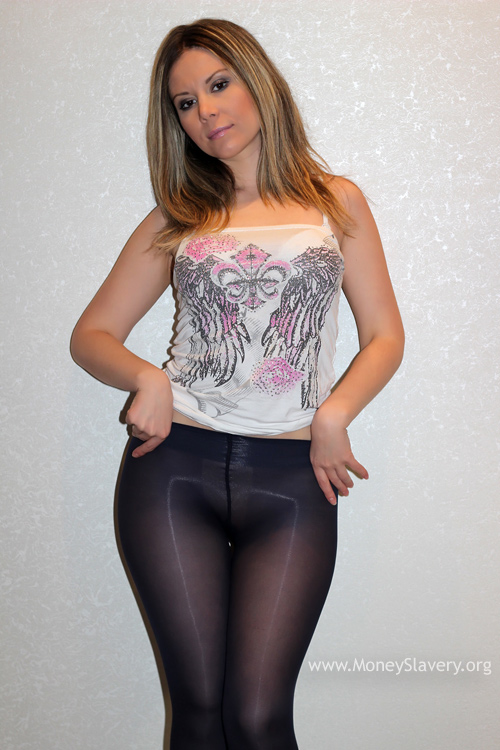 You can see as pet Andre worships my pantyhosed feet.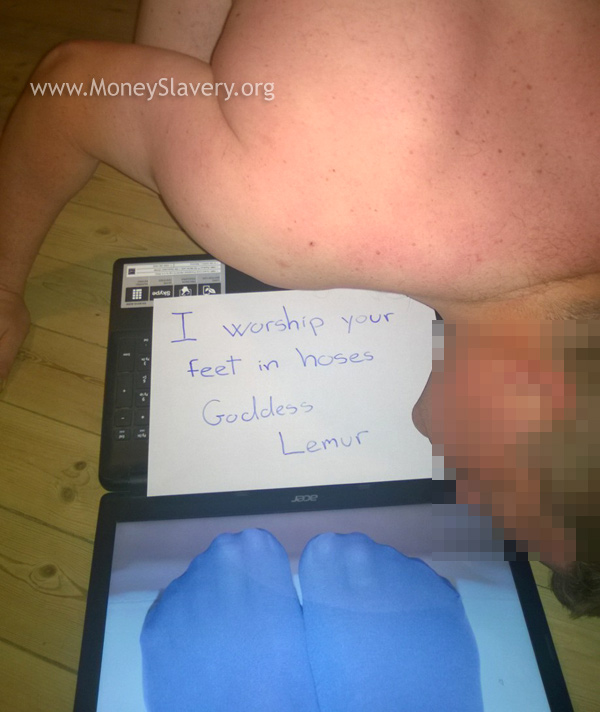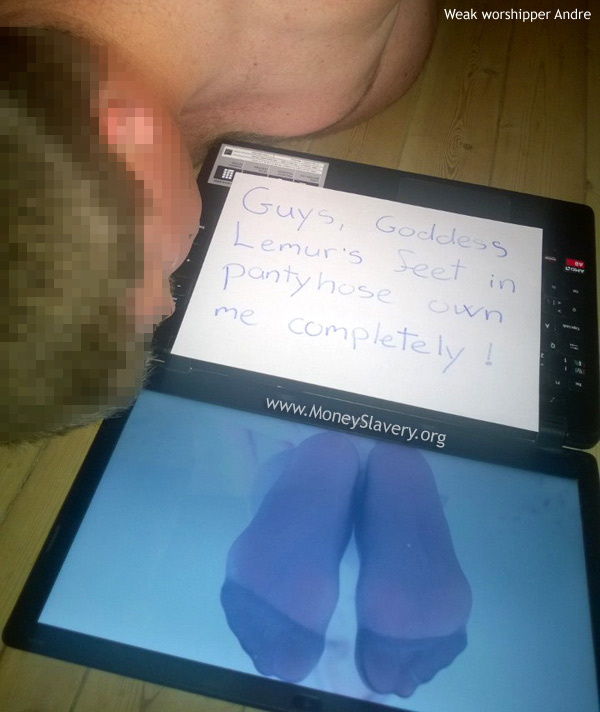 I've tributed you $50 as a thank you for posting my picture on your gorgeous website - I don't know why it had the effect on me, but I was really having spasms - very close to orgasm in my pants, and feeling even more weak, so the tribute is to show that I'm grateful that you to do this to me. I can't do anything but to think about you, and feeling owned by you, it is very powerful. Being constantly aroused by your mails and personal pictures with a paper with my name. It is so close to your pantyhosed feet, so I can do nothing, but bow to your feet, your soles, and the feeling and thoughts you create in me, doesn't make it easier, but I'm starting to appreciate it, as it is on your command, that I'm in this misery.
---
Am I not sexy in these nude pantyhose? Worship your Goddess, slave!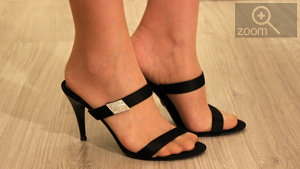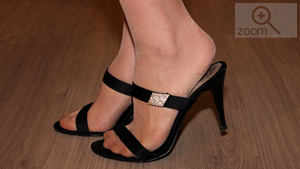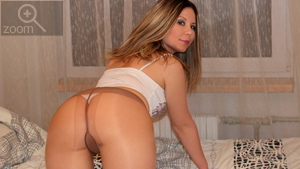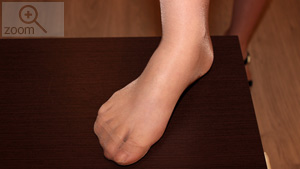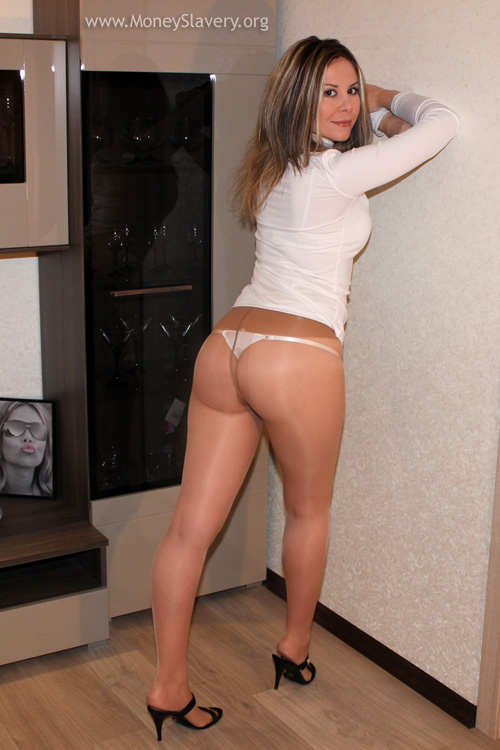 Slave, you will also get your own, personalized photos! Your pleasure is worth the money you give me! Wanna bet?


---
Wearing black, thin pantyhose with reinforced toes.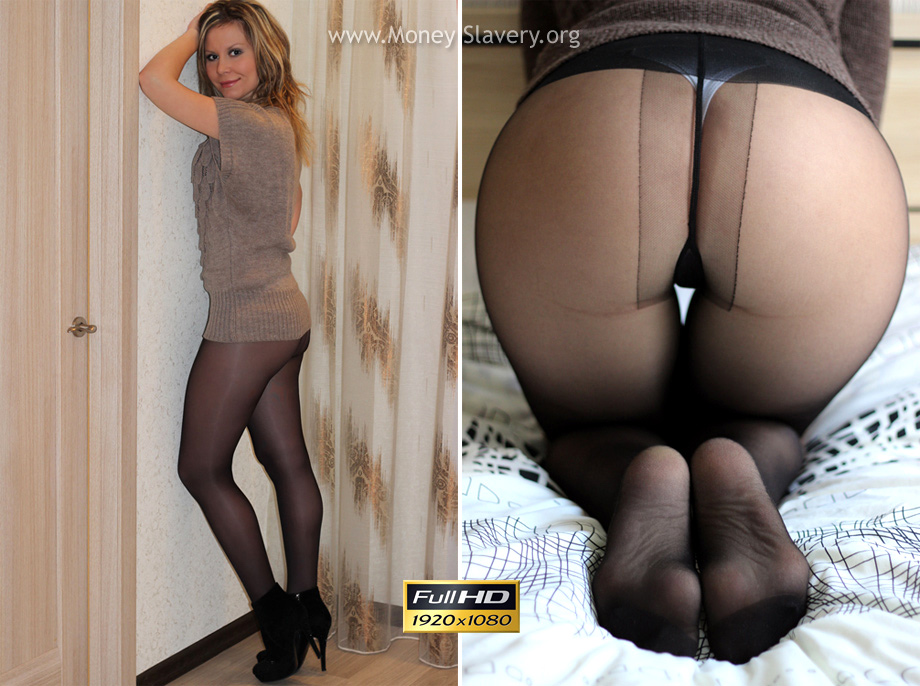 ---
What about worshiping your Goddess in white pantyhose, slave!?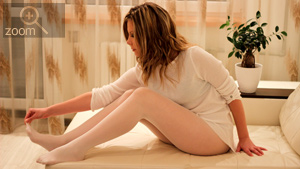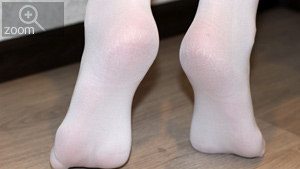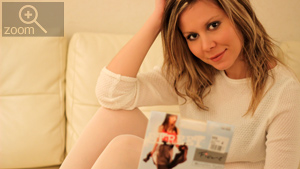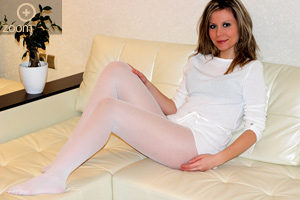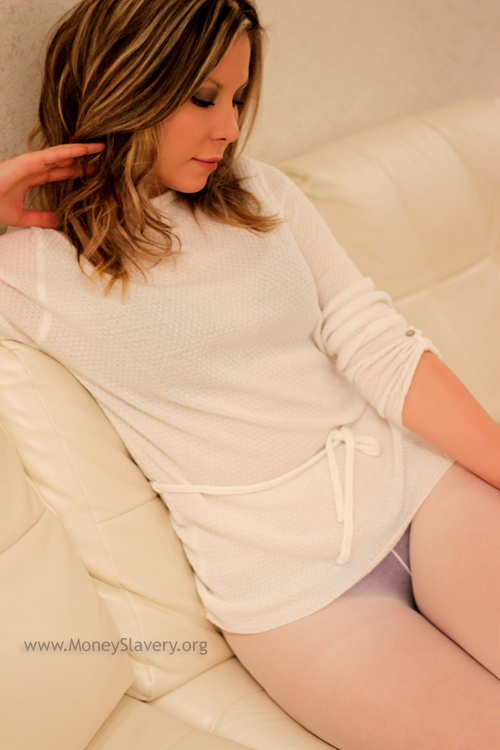 ---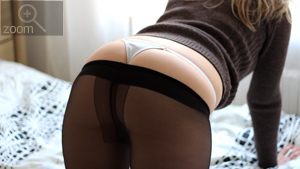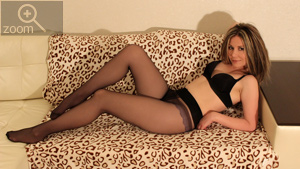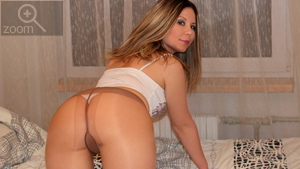 ---

Please take my introductory tribute, my pantyhose Goddess.






IMPORTANT! I'm a girl who'll fulfil your pantyhose itch. Share it with me! Finally you've found your personal pantyhose Goddess! Contact me.