Looking for a sexy Goddess? Tell me!

PLEASE READ BEFORE YOU SCROLL DOWN . . . I know most of you guys don't consider yourself to be money slaves. Isn't it funny to read this from a woman who owns the MoneySlavery.org website? Some submissive males think they are financial slaves, but they have no money to make it a reality. If they started, they'd go broke very fast. They live in a fantasy world thinking: - "If I had a lot of money, I'd be a slave to a sexy Goddess and be her financial servant". Building this website for 8 years, I have not yet found a slave who only pays and expects nothing else. However, the illusion that such cash slaves exist has become a wet dream and magnet for silly girls who consider themselves to be Goddesses, because they paint their fingernails and toenails with black varnish.

I realize that if you males give something, you need to get something. You have a dream to be a good guy who gets to meet a dream girl who gives him what he most wants, treats his eyes and mind, with something he can't get in real life. This is your other nature, your other you. It's not the guy who your colleagues know at work. This version of you longs to get special attention from a HOT girl who ticks your boxes and fulfills your hidden desires. That's why you are here... I also don't like this phrase: "Money slavery". I'd rather see it as: "choosing to serve a hot financial domme, treating and spoiling her as much as you can, in order to feel sexually excited". Although that wording is far less catchy!

I think that most of you guys have a real weakness for sexy girls you see around. If a stunning girl ever asks you for help you ALWAYS jump to attention and give her the help she wants. If she ordered you to kiss her feet (dream on...), you would do it. If she asked you to buy something she needs, because she left her money/card at home, you would gladly buy it for her. Even if she said she was tired, and wanted to sit down to rest on your face, you would still never dare to say no. LOL!!! You're actually very normal. Every male is a slave of his sexual dreams and hidden wishes. Some like to be visually stimulated, others prefer to stimulate their mind, their imagination, and live in their preferred fantasy world. That's why I am here!


I've made my own classifications of you males.
Choose yourself which you are. What kind of male weakness do you have?
---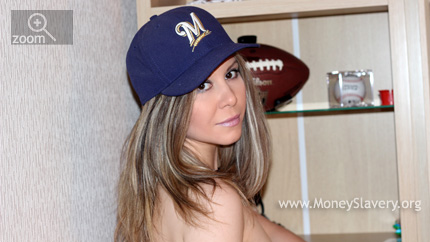 1. MALES WHO ARE WEAK FOR BEAUTIFUL GIRLS.


This kind of weak male can hardly live without finding a hot girl, and drooling over her, with a humble desire to kneel down and follow her orders. These men want to worship a girl like this, assist her with whatever she's doing, buy her a drink, do almost anything for her to grab her attention and get the chance to stare at her wiggling sexy ass, which they'd like to kiss forever! These men aren't submissive, but have staring eyes and salivating mouths! They know they will never be in a serious relationship with this perfect girl, but maybe they can buy her attention. Even if just for a little while. She is young and gorgeous, such a perfect Diva girl. You'd love to buy her whatever she asks you to buy, while she teases you without mercy, wrapping you round her little finger, and looking at you with her bright eyes; knowing that you will do what she wants until she has finished with you.
---
2. ROMANTIC MEN.


This is a subset of the type I described above, but these males are shy, tender and romantic. They hesitate even to write to me, thinking a girl like me would never reply to them, but when I do and quickly get them hooked, they can't stop thanking me, saying how sweet I am. They like specific things and love to get personalized photos torturing them in ways they can't resist. I can so easily do this, as I have everything a girl needs, physically and mentally, to infiltrate the male brain, and am a good reader of men, so I can make them feel they've found their private heaven. These guys always treat me with kindness and respect and want to buy me things to wear, and have my photo as their screen background if they can. Knowing that this personal touch and appearance of intimacy draws them ever more deeply into my web.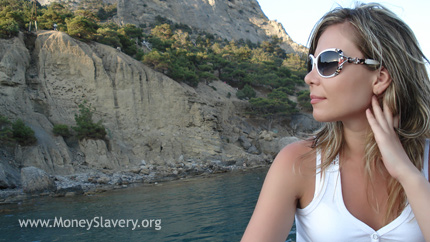 ---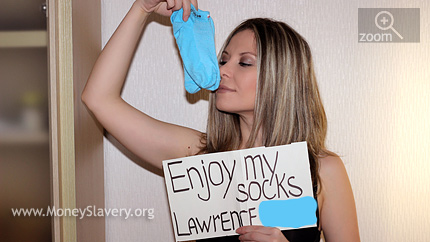 3. CLOTHING / UNDERWEAR / HOSIERY WORSHIPERS.


These guys have a great weakness. They are usually not submissive, but weak for a specific part of my body. They crave to worship my feet, my ass, my pantyhosed feet, my feet in socks, my bare feet, my bare soles, to be my panty slave and be teased and tortured with the different panties and hosiery I have. They are not money slaves, but they usually want me to buy other panties/hosiery to make them even weaker and push their hottest fetish buttons. They shiver when I send them personal photos wearing something they like. They also like to buy worn things that I buy/wear for them. It's a kind of clothing domination when they feel very weak and want to send me more money to treat them again. Although they are not submissive, they are certainly controlled by their fetish, which I call clothing slavery ;)
---
4. SUBMISSIVE SLAVES.


Submissive slaves want above all to receive my commands and follow the rules I set for them. Of course every slave wants something specific that drives him wild, but these males are weak subs who have no will of their own, but need to be forced, dominated by a sexy Domme. Obeying my orders is a must. They get sexual pleasure doing what they are told, especially kinky things. Also being locked in chastity or being treated like a cuckold who pays for my partying. I treat them with my personal, everyday life photos and they worship me all the more for it, and are thankful to be owned. They need to be told when to pay and how much to fulfil their findom addiction. I don't care if they work hard, and if it's their hard earned cash they are giving me to enhance my lifestyle, while they make sacrifices and even go hungry. I demand it because I deserve it, and I can. They are so weak and love to be controlled by a strong, selfish beautiful woman. I own their mind, they aren't allowed to think for themselves.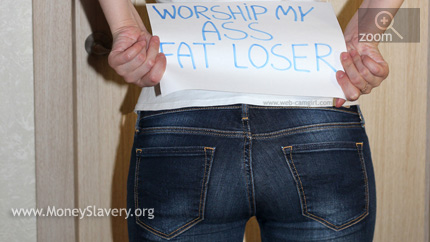 See a fat worshipper is kneeling my ass
---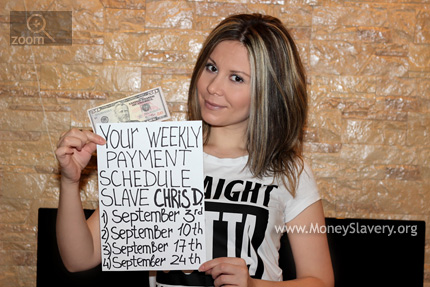 5. MY HARD WORKING SLAVES.


These servants want not only to pay money for being a slave to me, but also to work for me. They perhaps get a part time job to earn a little more to treat me, or they work to promote my website on message boards and fetish communities. They are worker bees for their Queen, who are proud to work for me. I have a small army of these workers with different talents. Some of them pay their tributes to be published on my website with their stories. Then they promote links to this story on other sites and forums. You can see some pics of my slaves who pay me to be published on my site, showing how much they worship me. Do you want to work harder for me, to really please your Goddess? Of course you do! You know serving a girl like me is a great privilege, and you're just an instrument for me to use and benefit from your hard work! Be proud of this!
---
6. KINKY SLAVES.


These kinds of males are very kinky and can only get off doing something kinky. Tastes vary, and sometimes it doesn't matter exactly what, but they love to feel sexually exploited. They really relish following the kinky tasks I set them. They know what makes them hard, but they need to feel they are being forced by a mean Mistress, even more than submissive slaves who aren't kinky, but love to get commands and to perform the tasks I order them to do. Kinky slaves are more demanding and have to tell me exactly how they want to be 'forced'! Of course they serve me financially too being my cash slaves, otherwise they don't get my attention. Financial servitude is a must in my book, as I know that I am good, and my brain works hard and my imagination does overtime to make sure these males get off in the ways they need, after years of having their slave fantasies unsatisfied.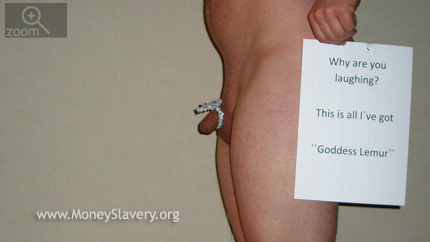 ---



IN CONCLUSION . . . All you males are different and have your own fetishes, kinks and needs. Only one thing is constant... your strong desire, your craving, your longing to feel you belong to a hot girl and must serve her financially as much as you can. To let that girl of your dreams own your heart and mind, your body and soul. To control your weak malleable brain, even to commandeer your muscles, the fingers of your wanking hand, allowing you to masturbate with much more satisfaction than ever before. I become your oxygen, your inspiration, the embodiment of your fantasy, your feminine idol to worship and be enslaved to.

How do these descriptions best apply to you? Describe to me your feelings about how you most want to serve me. Explain what it is about me that makes you feel weakest and most submissive. Describe what serving a beautiful and controlling girl like me means to you. I encourage the contribution of your own photos, or some art work you have created, if this complements your personal vision of servitude. And remember to be polite, as you should always be dealing with a superior lady, and let's face it most attractive ladies are superior to you! Show me you mean it, and treat me with the great respect I deserve.