Cum Denial Slaves: pay Cum Tax to your Goddess

Do you believe that you are entitled to play with your cock whenever you want to? Without permission to touch your penis? I think it's wrong for a male to have the freedom to ejaculate any time he feels horny! Am I right boy? A weak-willed slave like you needs a strict Goddess who drives you crazy with her teasing, and doesn't let you cum until SHE is ready. I am the orgasm control Goddess you have been looking for.

You can send me a message right away and let your sweet torment begin. Will I allow you to become my cum slave? I expect that your cock is twitching and throbbing now, in anticipation of my response, and the control I will have over your orgasms if I accept you. I fully believe that it is my right and duty to take control over your undisciplined penis, and deny you the privilege of ejaculation until I give you permission to cum. Your semen is MINE!

Aroused? Shaking in anticipation of trying? Indeed!! You'd be surprised how many of my slaves have cum to accept my ownership of their cock and balls, and now enjoy having a sexy girl take complete control over their libido, their sexual drive. These wise slaves pay me regular tributes, and get to cum only when I give them permission. Or I put them on weekly
cum schedule

and create a personal photo to set as their computer or phone screen wallpaper. It makes them so aroused knowing that I control them like this, and they are not able to touch themselves without my order to release.

But many other boys still lack the discipline to keep their naughty hands off their manhoods, and keep their juices locked inside their swelling balls. They know it is wrong, but are simply too weak to resist temptation. Especially when they are always sneaking a look at my website, and I am teasing them with daily personal photos and messages.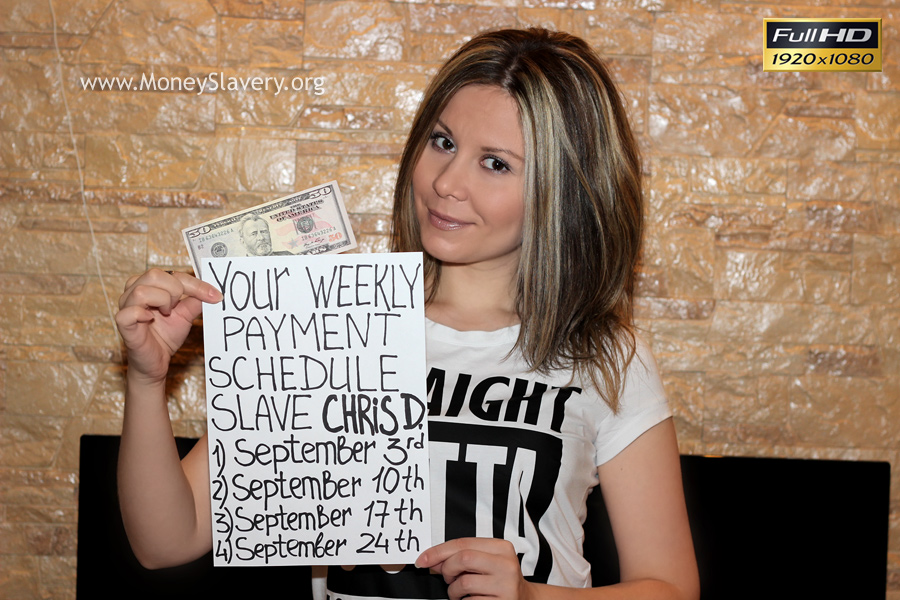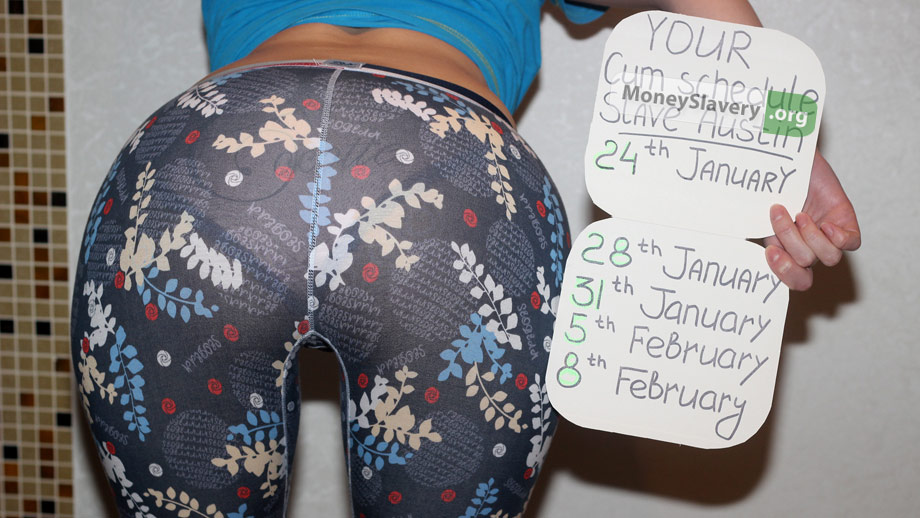 That is why I have introduced a cum tax, to complement my cum denial service, to enable these weak-willed males to orgasm when they are can wait no longer. This cum tribute is a toll they must pay as an apology for being so pathetic and ill disciplined. If they are too weak to meet my high standards of cum denial torture being a slave in chastity, at least they can pay me and acknowledge their uselessness.

So when you have the itching desire to be allowed to cum, you must pay me each and every time. You'll be one of an army of cum slaves who worship me, and give me the key to their sexual release by submitting to my orgasm control. Free ejaculation will be a thing of the past. You have to write to me showing me your need to be controlled, and wait for my permission to jack off. Do it right now!

Sample Message: "Goddess Lemur, I am a pathetic wanker who can't keep his hand off his cock. You make me feel so horny and I can't resist any longer. Please accept this payment of cum tax, and my apologies for being so weak and useless. Thank you, my Lady". Send it here.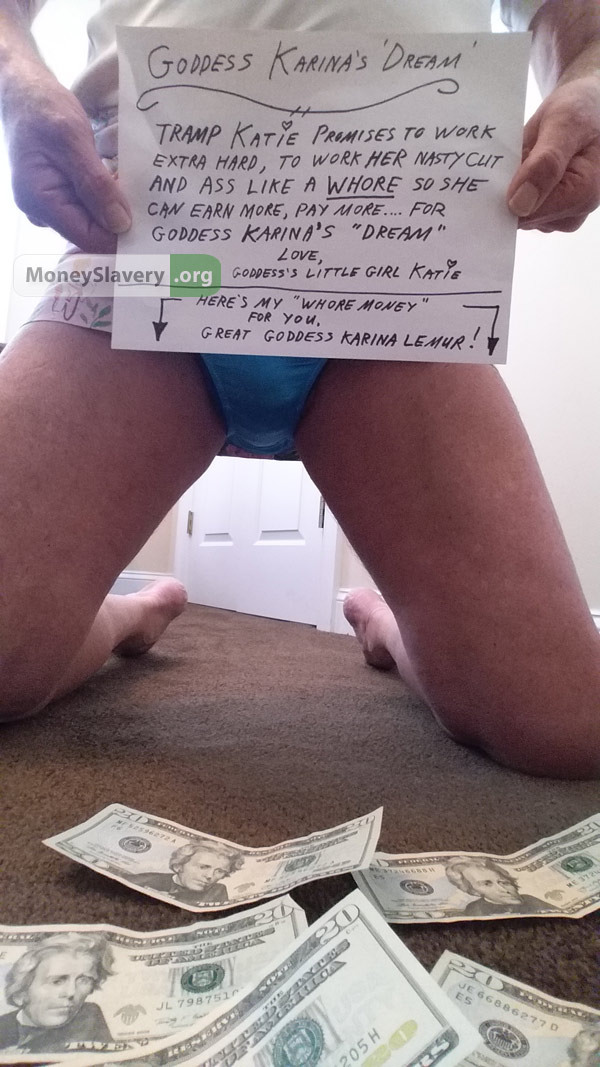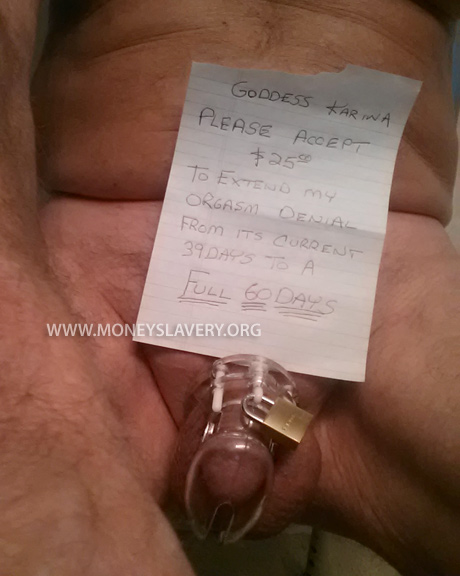 My cum tax is a toll, tariff, tithe, impost, fine, penalty paid by her ill-disciplined slaves, and casual visitors to her site, as a tribute when they simply 'have to' orgasm. It is a part of my strict cum denial service, for weak-willed horny boys who simply can't wait! Payments of 'cum tax' are included in the total tributes measured in the Slave Chart, and help towards winning the Goddess's prestigious Slave of the Month award. She prides herself on being an 'equal opportunities' Goddess, and even dissolute wankers can win the contest!


After having tease me daily for a week, without allowing me to cum, Goddess Lemur contacts me in my office, on the day my adopted bill is in her wallet. She orders me to take out a bank note of the equivalent value, and put it in my boxers - right there and then, and to wear it there for the rest of the day, and go home and masturbate after hours, with the bank note wrapped around my cock. Once more, she makes me feel owned and weak, and I rush to the toilet to do her bidding, making sure, the note gives me as much friction and stimulation as possible, so I can suffer more for Goddess Lemur.

With the blue balls Goddess has given me, it was almost to much. I had to spend the rest of the day, only focusing on not cumming in my pants right there in the office, and again Goddess has shown, how much she controls my mind. In the end I just had to abandon the job, and hurry home to masturbate, making sure the bank note stays firmly around my cock, and I get the most intense, powerful orgasm ever.

After I finished this task, I just had to make an extra tribute to Goddess in gratitude, that she has accepted to own me, and in gratitude, that she showed me this attention to give me such intense pleasure, being in control of my mind and body - and again showing me, that she can make me even more weak for her pantyhosed feet. And of course I know, that every time Goddess Lemur gives me an order to cum, I must pay my tribute for getting this pleasure.

Your weak worshipper Andre
(click to see Andre worshiping his Goddess, like a good boy)

I've read the above and I WANT TO PAY MY CUM TAX, my Goddess!