Story #15 - Anh, Linda and Dan's enslavement.

Several days had gone by and I was adapting well to my new life. The starvation, humiliation, and beatings were so routine that I was completely broken. And I found such freedom in my will being destroyed. I no longer had the right to think for myself and I was so proud to be a tool for Goddess Lemur.

Goddess had struck a deal with my former boss, Barbara. She agreed to pay Goddess Lemur my 40 hours worth of salary a week in exchange for me putting in several hours a week at the shoe store. And Barbara now had a right to use me in whatever way she saw fit for five hours a week.

When I returned home from my shift, i came upon an interesting scene. Goddess Lemur was having a beautiful lunch on her balcony. She was dining with a man I had never seen before. I crawled in and knelt down in a prayer position with my nose on the floor, awaiting to be used or ignored.

They talked for probably 20 minutes before she casually drew attention to me.

"This is the new one.....Hey, slave!"

"Yes, Goddess?"

"This is my boyfriend. You shall address him as 'Sir'. Greet him now."

I crawled over and said, "Hello, Sir. I am at your service, Sir. Thank you for letting me available to use you in any way, Sir." And I planted a kiss on each of his feet.

Goddess Lemur and her boyfriend laughed and laughed for quite a while.

"I mean, where do you find these fucking losers?!"

I really noticed a change taking place in me in that moment. I was so proud that my natural state of being such a complete loser not only was useful but also had quality that amused my Masters. And I felt so proud to be laughed at because I knew they were enjoying themselves.

"Slave, you can watch us eat for a little while. I understand you're very hungry. So enjoy watching us stuff ourselves."

I lied down on my stomach and looked up at them. They chatted casually about how much fun they had skateboarding that morning. Apparently neither of them are into it but a friend of Goddess Lemur invited them to a new workout that involved skating and it was just a silly outing for them. I was so happy to know that while i was working, Goddess was having fun with her boyfriend, exercising, enjoying a leisurely life.

At one point the foot slave asian girl, Linda, came in with an older woman I later learned was her mother. They both knelt beside Goddess Lemur and awaited instructions.

"Ah, my mother-daughter slave team."

Goddess Lemur, in an absent minded way, began caressing the older asian slave's face as if she were a dog. An owned pet. Apparently, her boy friend had never met the mom so i learned along with him the details of their relationship to Goddess Lemur. Linda of course made routine visits to the home to give pedicures and perform sexual favors for the head slaves. Her mother, Anh, owned the nail salon where Linda worked. And as a classy tribute to Goddess Lemur, in addition to the token payment of $100 for each visit made to Goddess's home, Anh made sure to stop by in person once a week to drop off a monthly tribute of at least $1500.

Goddess's voice faded up in my head as i came back from being lost in her beauty...she was laughing as I picked up on what was being said....."....so I'm making well over $2000 a month on these two. Can you imagine paying someone who is basically prostituting your daughter? It's amazing being me --

"Anh, what do you have for me?"

"We were very profit this week, our Goddess. We have $2300 for you this week, Goddess."

With that she handed the envelope to Goddess Lemur and collapsed in a bowing, passionate but silent prayer. Both women went up and down in a worshipful prayer-bowing ritual while Goddess and her boyfriend laughed.

"Fucking freaks, ha!"

"OK, Anh! Anh!"

Anh sparked to attention and looked up at Goddess, who smacked her face hard.

"Anh: be a good pet and suck my boyfriend's dick while he finishes his lunch. Linda, did you know I went skateboarding today in my pink converse and didn't wear any socks? Please clean my feet with your mouth."

I couldn't believe how awesome it was to be Goddess Lemur and her boyfriend. Free money, service, sexual favors. I was so proud to be part of a network that allowed for such fine living!

"Now, dan." I snapped into attention!

"In the Master Bathroom, i left my pink converse on the floor. They absolutely stunk after skating all morning and no socks! Ha! Go upstairs to the bathroom and bury your face deep in the shoes and sniff them for at least one hour each. That's your reward for the day. The job is then to lick them non stop until one of the head slaves puts you to bed later tonight. I want you to lick clean every surface, inside and out. You're welcome."

I couldn't wait to go upstairs and experience the sweat soaked, well worn sneakers!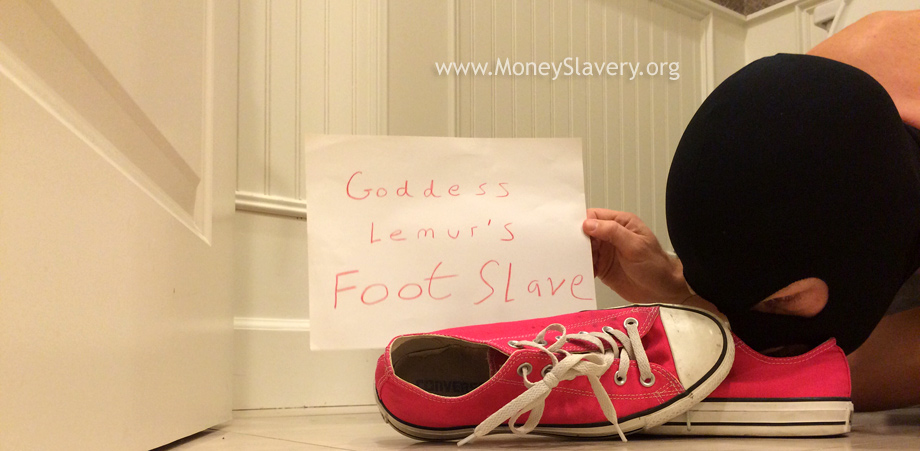 Other stories