Story #14 - Kneeling and waiting for Goddess.

It was Friday and I just came home from my daily work. I was exhausted and wanted just to take a glass of wine. I opened my computer to see if there was any sign of activity of my loved and dearly Goddess Lemur. I do that so often - signing in to see if she want to chat with me - mostly without any luck. She is probably out living her life... with her friends.

This Friday I was lucky and I wrote: "May I approach you?". Just writing those few word got me all excited and my little stick grow and grow hard. Funny how just a few words get me soooo excited. Goddess Lemur wrote back: "Yes, but shortly - I just painted my beautiful nails and my delicious feet are in new nylon socks. I am going out enjoying Friday Night for your money stupid. How about that?"

I felt good that I had been able to give her money for luxury and although tired after a lot of work I wrote: "One can only wish he was able to be a fly on the wall and expirience such life"

Perhaps she sensed that my reply was just a little late and got suspicion to me. She wrote "you are not sitting jerking with your little worm?". "NO" I wrote immediately. "Turn your webcam on right NOW!!!"

I got a shock and did what my Goddess demanded as fast as possible. I am sorry to say she was right. It was all obviously on cam. Her I stood before her with a stiff stick that normally never listen to my demands - but just write a few word with Goddess gets all wild. I was of course ashamed - lying for Goddess. She order me down on my knees and asked what I had to say for myself. I had no excuses and I had it really bad.

"I can see you have a picture of me on your table? That's good slaveboy. Otherwise lying bitches don't get any mercy. Since you are in your right position on your knees in front of a picture of your Goddess and in front of your webcam I will allow you to stay there tonight. I see your little pigstick is erected - or is it? IT STAYS THAT WAY ALL NIGHT WITH OUT YOU EVER TUCHING IT - GOT THAT? No movement from your position on the floor - got it?"

I was really nervous about the situation and I had no other things to do to say "Yes Goddess". She seemed really angry.

"Now I will go out with my new stockings, shoes and my hot date of a real man drinking champagne and eating a deliciouse dinner. When I come back - and I don't what time that is - I will look at my messenger and you will keep the connection to your webcam. If I see you move or tuching yourself you are excluded from my stable forever. It your stick isn't exicted by thinking of my date you are excluded. Now bow your head down - your head should not be at the same level as the picture of my divine face - GOT THAT?"

"Yes Goddess - sorry..."

Then all got silent and her I was sitting. Tired and alone on a Friday night. This was not my plan. My knee started to get tender and cold and distracted me a little, my erection was taking of and I started to panic because I had orders not to touch it. I had to eat the pain from my knees and focus on my Goddess - thinking of her now at the restaurant laughing and sitting there with her date in her new nylon stocking and her new painted toes. Oh those small delicious toes. Right there I felt my erection was increasing and the panic vanished. So I fighted again and again - eating the increasing pain in my knees, my cold naked body. I must keep the erection to Goddess comes back from the restaurant. She can come back anytime no I thought - I looked at the timer and I realised I had been sitting there just one hour. Oh my God I thought. I fighted and was crying for a while in pain. The suddently I hear the messenger sound and I looked up - and I could see the Goddess on the screen laughing at me. "So you have been a good boy after all?" - she laughed meanwhile she was drinking of a glass of champagne. Behind her was sitting a atletic looking man - also he was laughing. "Is that a cock??? No way - a little worm" he laughed. "Now you shall see a real man" and he showed it to me.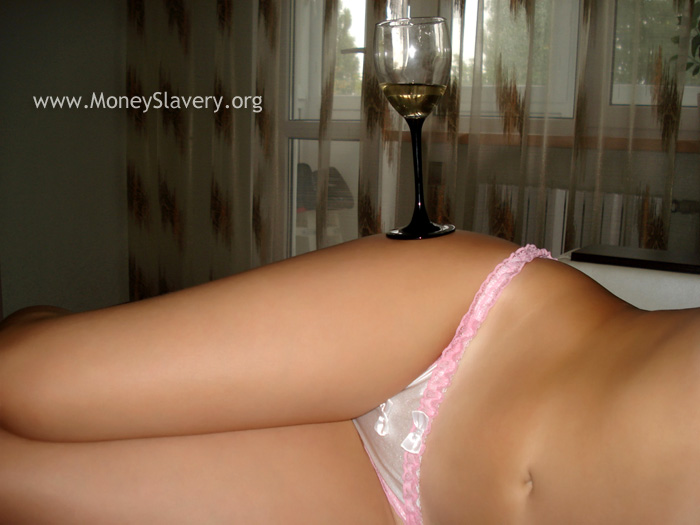 "Does it hurt?" Goddess Lemur asked and I told her that I never had expirienced so much pain in my knees before. "Good - enjoythe pain my little fat pig meanwhile me and my gorgeous looking man have some unfinish satisfaction to do. You better keep that little stick up all time and you are not supposed to even glance at the screen. You are allowed to listen to my pleasure meanwhile a real man pleases me - GOT IT?"

You stay down on your knees and bow your head all time until I say otherwise - GOT IT?"

I did what she told me to. I hear laughing and kissing and sounds of satisfaction. Oh my God he was lucky this man. It was all torture. I could feel my leg anymore. Tears was coming and then all got silent. I didn't have the nerve to look at the screen - I just sat there in pain. After 3 hours I hear the Goddess saying: "You are still there fatboy? I think I felt asleep there for a while. Now I feel like some man again - so I will go to the toilet and then make my stud please me again. You are now excusted and not allow to be a part of my Friday night party any longer. But keep the cam on at all time - you site tight at your computer all time the rest of your weekend. If I come back and see you have left the chair you are deleted forever. Got it? If you have to go to the toilet - to bad - do it in the chair. You can leave when I come back - if I remember...

I could leave the floor. The legs would move and it took me 2 hours before I got to the chair. I sat there to Sunday night - then I received a text: "Good boy - that was fun. Remember never to lie again. Now you are dismissed - but go online next Friday - I might want to play with my litte Pig again - just like this weekend. LOL. Now go to work at get me some money for new champagne retard..."


Other stories